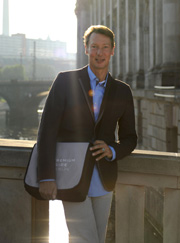 I will accompany you on the guided tours you book, be they on foot, by road or by boat, and give you structured and comprehensive information on the respective theme. I will also use an iPad to show you numerous pictures and sometimes videos as well. In addition, you will benefit from my personal assessments and views gained in the course of my own Berlin experience, now stretching back over twenty years.

If you need any help, I am also very happy to assist you ahead of your visit with the planning of your Berlin trip.



For more information on our guided tours click here...